Highlights
The "Euros Wallchart" campaign ran across Europe during the summer of 2021 and was shortlisted for 'Best Multichannel Campaign' and 'Best International Campaign' at the B2B marketing awards.
£2.75m
Pipeline Generated
The Challenge
How do you create a campaign that generates greater than 50% repeated engagement with a brand for a sustained 6-week period?
Create a wallchart prediction competition for the Euro 2020 tournament of course. Which is exactly what we did with Proact and NetApp.
The Euros wallchart campaign was a fully integrated multichannel campaign, which tapped into football fever, people's competitive nature and Proact's tagline #poweroftogether to create a campaign that hit the back of the net.
Proact and NetApp operate in a highly competitive global landscape and getting in front of key decision makers across multiple territories, languages and cultures can be a challenge. It's why Proact and NetApp were keen to do something different from the B2B norm of just translating whitepapers and webinars.
We incorporated excellent football pun work, a digital and physical illustrated wallchart that appealed to the IT decision target audiences' nostalgic teenage memories, and supporting email and paid social promotion to drive a 20.5% conversion rate (competition sign ups) and 156 net-new leads for follow up by Proact post-competition.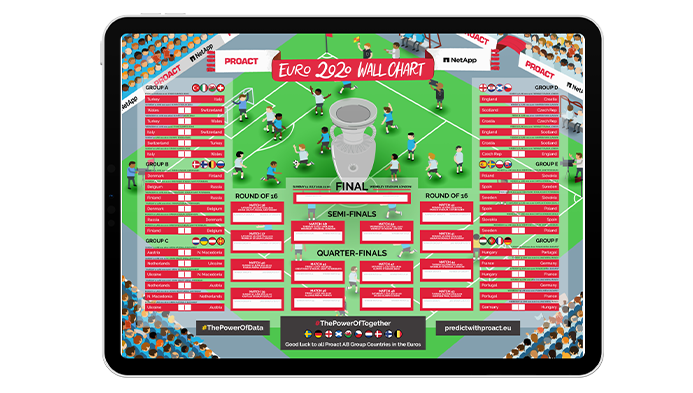 The Solution
The objectives for the campaign were clear:
Start new conversations with prospects and existing clients

Drive net-new MQLs for Sales follow up and provide a great ROI for Proact and NetApp.

Build brand awareness for Proact and NetApp

Engage the target audience in a fun and interactive way over the Euro's football season
The target audience was key IT decision makers across Europe. In profiling this audience at an individual level, they are predominantly male with a strong leaning towards sport, many of who are lifelong football fans.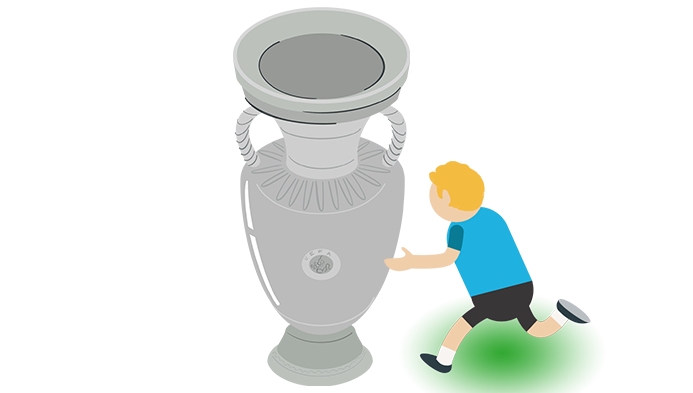 The sentiment was simple...
Football is a common language that Proact and NetApp's target customers speak. And the idea of bringing people together with a shared love of football tapped perfectly into Proact's tagline #thepoweroftogether. But how do you make this a commercial success?
Step 1 – The fun part: The creation of a nostalgic physical wallchart which was also available as an online score predictor via a supporting microsite.
Step 2 – The commercial part: How do you make something this lighthearted commercially successful? Add an element of competition of course.
The campaign was centred around the dedicated microsite which hosted the custom illustrated 'wallchart' converted into a digital score predictor. Once registered, players had to submit their score predictions for the 8 upcoming rounds of the Euros tournament – but prediction rounds opened week on week, generating repeated brand engagements over a 2-month period of over 50%, rather than just a 'one-strike' approach.
Upon predicting, users were served with relevant content and links to find out more about NetApp and Proact, creating engagement with a net-new and target audience over the entire campaign period.
And just like that, MQLs hitting the back of the net. But as with any team sport, the microsite couldn't have done it alone, and we also used a multichannel email, paid social, organic social, and direct mail approach - with physical print outs of the wall chart sent to key contacts ahead of the tournament starting (just add that something extra to the campaign)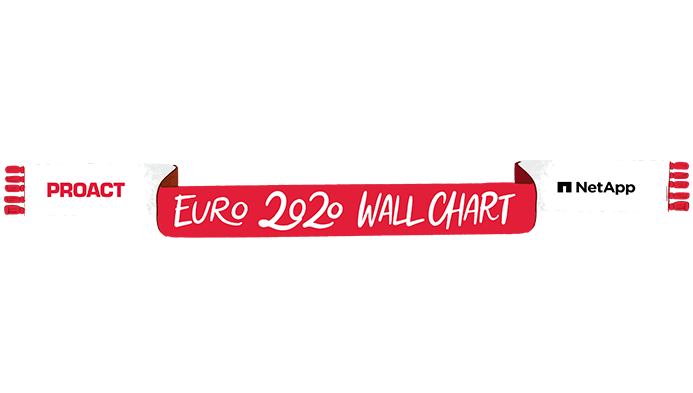 The Results
Over the 6-week life of the Predict with Proact Wallchart, the campaign generated 156 new MQLs equating to a pipeline value of £2,750,00.
Every element of the campaign was a success with impressive performance stats across all channels:
Overall engagement across the microsite was extremely impressive – it generated 328 total registrations, and a 20.5% conversion rate (from site visitors to registration) smashing the industry average of 2.23%.

The engagement rate (of registered participants who entered scores), was 52.3% across the whole campaign, smashing the 20-25% target.

Over 27,000 emails that were sent to drive engagement had an open rate of 27%.

Organic LinkedIn Posts showed great engagement – with an average 1.11% CTR (higher than LinkedIn's usual CTR of 0.56%) across all posts and the first post in the series generating over 10,600 brand impressions.
Which all lead to this campaign winning the tournament, lifting the trophy, and delivering an ROI of 1:161