Highlights
The "Power Drive" campaign brought to life the world of enterprise storage solutions in a fun, interactive, and addictive way. It also looked awesome too and played like a dream, which is always a bonus.
The Challenge
"Digital Transformation"
We can feel you rolling your eyes and yawning already. It's a term that's been done to death in B2B marketing. Everyone's heard it, seen campaigns about it, and is (probably) thoroughly bored of it.
So how do you get people excited, engaged, and interested in something that threatens to get lost in the noise? Simple, you get creative.
It's fair to say that when someone says 'Enterprise Storage Solutions' the first thing you think of probably isn't going to be sports cars or motor racing, is it?
Although it now might be thanks to the "Power Drive" campaign for CDW and Dell EMC.
At Sharper, we know that an amazing creative idea is only one of many steps to success. As always, we carefully cultivated a campaign that reached the right people, at the right time, with the right message.
CDW and Dell EMC operate in highly congested and super-competitive markets. Multiple vendors and channel partners are all constantly going head-to-head to grab customer's attention and secure large scale "digital transformation" deals.
The imagination of the target audience was captured with an interactive (and scarily addictive) arcade-style game perfectly blending the seemingly disparate worlds of fast cars and data storage.
Add into the mix a healthy dose of competition, must-have prizes, and micro-messaging (behavioural science 101 to drive deeper engagement) along with an expertly structured and phased multi-channel approach and it's no surprise this campaign claims "pole position".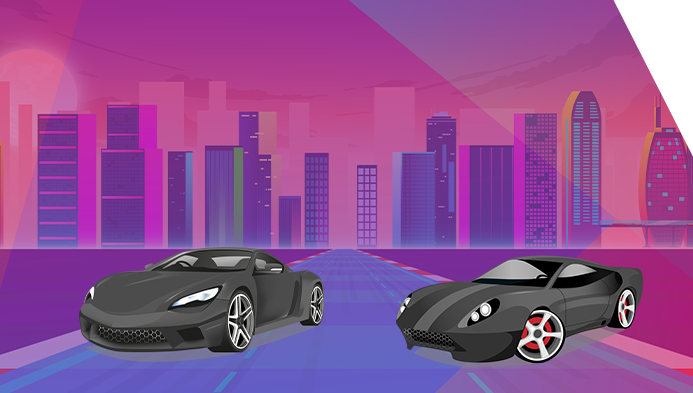 The Solution
There were 2 core objectives for this campaign:
Increase brand awareness for CDW

Drive lead generation for Power Store
The target audience was senior level IT decision makers in the UK, specifically those with responsibility for data storage and management within their organisation.
Through detailed audience profiling, we uncovered a number of key similarities across the target demographic. Two of which stood out prominently: Motor Sport and Casual Gaming.
As such, we combined these interests, and reimagined the Power Store range of devices as high-performance cars that people could race in a video-game style.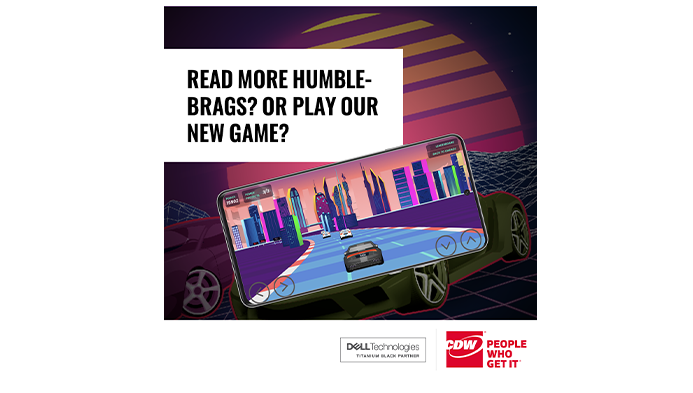 The Core Asset
The core asset of the campaign was the Power Drive game. An arcade style driving game, created in a neo-retro style (to appeal to the target audience.
Players would visit the "garage" to unlock 3 vehicles, each one a reimagining of a Power Store appliance and then race them against the clock on a specially designed track.
The game was designed to encourage multiple plays (using some clever behavioural nudges) with micro-messaging about Power Store woven into every element.
We then took the game to the audience through a carefully constructed and staggered multi-channel approach combining email, e-shots, paid social, PR, display ads, and direct mail.
The game itself sat on a dedicated landing page (integrated into CDWs instance of HubSpot for full tracking and analytics), which also hosted additional content and calls to action.
This was initially available on desktop only, with a second phase of the campaign centred around a mobile version. This game is still playable now and is used as an "evergreen" asset by CDW.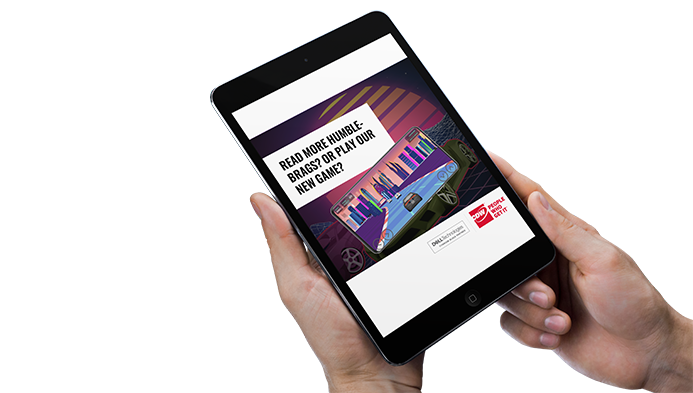 The Results
This multi-channel, multi-phase approach was executed perfectly and delivered some top-notch results:
Brand Awareness
830,000 LinkedIn ad impressions, 6,000 display ad impressions (target 500,000)

5,800 eShot opens (5.1% CTR) and 1,500 emails opens (5.6% CTR) (Target 1,000, CTR of 3-5%)

4,500 unique site visits (Target 2,500)

2,400 game plays (Target 1,000)
Lead and Pipeline Generation
455 influenced contacts (Target 500)

103 unique form fills requesting CDW follow up (Target 50)

£1,447,000 pipeline value (Target 500k)

1:31 ROI (against a target of 1:10)