Highlights
The "Cloud Senses" campaign won Silver for best use of direct mail at the B2B Marketing awards. Which means it really delivered. Pun definitely intended.
$2.16m
Confirmed revenue generated
The Challenge
How do you bring something as ethereal and intangible as "the cloud" to life? With a highly creative campaign that tantalises all five of the senses, that's how.
Typical B2B marketing campaigns try to appeal to the logic and reasoning part of customer's brains. But what if a marketing campaign appealed to all five senses instead – touch, taste, sight, sound and smell?
Well, that's exactly what Sharper did for Cloud Bridge and Spot when we created the Cloud Senses campaign.
The target audience was invited to participate in a once in a lifetime Cloud Senses experience via a fully integrated email and social promotional push.
The hero of the campaign however was a high-value, limited-edition Cloud Senses pack. A direct mail experience where people could quite literally touch, taste, and smell the Cloud Savings they could make with Cloud Bridge and Spot by NetApp.
The campaign was so "stand out" that competitors approached Cloud Bridge to congratulate them on a great campaign, and it also delivered the goods results-wise winning 8 new clients, a realised revenue of $2m+ and an ROI to date of 1:98.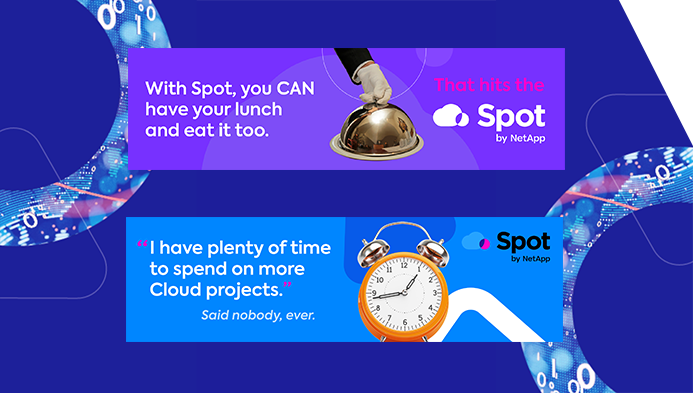 The Solution
The overall objectives for the campaign were to:
Drive greater awareness of Cloud Bridge' and their 'Cost Ops Pro' managed services with the core target audience

Deliver MQLs primed and ready to convert to opportunities and revenue
The campaign was targeted at a UK-only audience of Senior IT and Cloud decision makers including CTOs, CIOs and Directors of IT Infrastructure.
We know that the IT decision maker target audience are time poor, so it was all about getting the lead creative in front of people across as many channels as possible – with Direct Mail as the hero asset to drive conversions.
The aim was to reach these decision makers via Digital channels so they could request their exclusive Cloud Senses direct mail pack via a dedicated site.
The advantage of this 'indirect- direct mail' approach is that only engaged contacts will receive the high value asset (and are therefore more likely to be at consideration stage) driving better ROI for Cloud Bridge in the long-term.
So, what did we do?
Although the high-value Direct Mail pack – the Cloud Senses Box – was the hero of this campaign, the overall approach was a truly integrated multichannel campaign.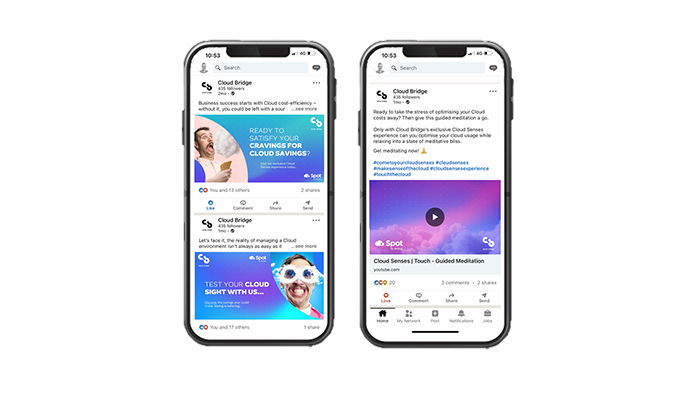 The Results
We're sure you're intrigued just reading about the 5 Cloud Senses… as were the target audience.
With average open rates across supporting emails in excess of 18% and paid LinkedIn activity driving a 0.65% CTR (compared to 0.28% forecast) for just £1,000 spend, the creative truly cut through and grabbed the attention of the target audience.
Doing all that is great, but a campaign needs to deliver ROI, right? And this one definitely did.
Thanks to this campaign Cloud Bridge onboarded 8 new CostOp customers, with a net-new confirmed revenue of $2.16m (to date), which equates to a 1:98 ROI.