Highlights
A text book demonstration of why audience research is so vital. "The Next Evolution" shows that when you REALLY understand who you're targeting the rest will fall into place.
The Challenge
A limited budget needn't limit creativity, effectiveness, and results, should it?
You can still deliver wonderfully inventive, engaging, and ROI-focussed campaigns even when the purse strings have only been loosened slightly.
Which is exactly what Spot by NetApp found working hand-in-hand with Sharper B2B Marketing on "The Next Evolution" campaign.
With a minimal budget to work with Sharper served up a perfect blend of audience insights, creative, messaging, digital experience, and cross-channel execution to effectively grab the attention of a very specific target audience in a fun and different way (whilst driving some chunky ROI in the process).
Spot exist in a cluttered cloud solution space. However, no other solution can deliver the automation, optimisation, and business value of Spot. It is a truly unique set of solutions that solve problems Cloud Ops practitioners usually don't even know they have.
The strategy for Spot is clear. Drive further growth by ensuring the right people know about Spot, understand it, and see the value it adds. Which is exactly what we helped them do.
The Solution
The objectives for the campaign were clear:
Creative Positioning Effectively position Spot as the revolutionary solution it is, but in a more creative and intriguing way. Don't just tell but show people what Spot is all about and why they should care.

Brand Awareness Drive greater awareness of the Spot brand with the target audience, increasing the size of this audience for Spot in the process.

Lead Generation Convert awareness and campaign engagement into high quality, on target MQLs. It's not about delivering vast quantities of leads but ensuring the MQLs delivered are bang on target.
But no wonderfully creative campaign can achieve its objectives without a clear understanding of the target audience.
In this instance it's the clunkily titled (but accurate) "CloudOps practitioners" - those in IT roles with specific responsibility for cloud. This covers CTO and/or CIO equivalent roles as well as those with a more functional and "hands on" involvement in cloud solutions.
In profiling this Cloud Ops audience, we found commonalities around a love of tech, gadgets, and computer games.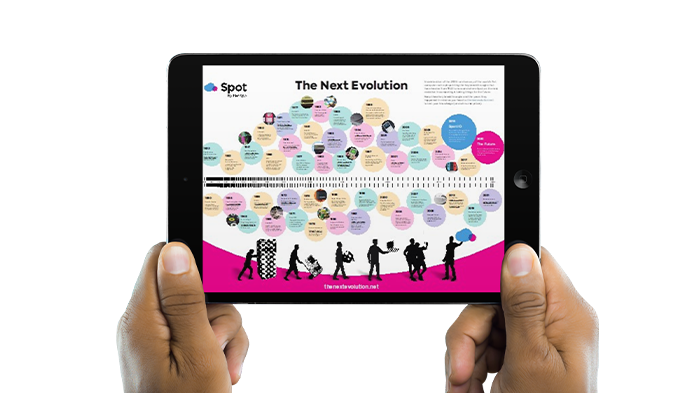 Which gave us a briliant idea...
In 2022 it's 200 years since Charles Babbage created the world's first computer, but what other major tech developments have led us from then to now (and Spot)?
We pinpointed the 46 major leaps forward across the last two centuries of technological evolution to craft the Tech Timeline, perfectly placing Spot as "The Next Evolution" of tech and computing power. But 46 data points on their own does not a campaign make. So how to bring this idea to life (and do so on a budget)?
A campaign hub site was created that used the Tech Timeline to create an eye-catchingly interactive (and as it turns out, quite addictive) date-matching game.
Player's race against the clock to drag-and-drop elements from the tech timeline in order, earning points along the way. And points make prizes.
Everyone who played the game (and parted with contact details) was entered into a prize draw to win their very own piece of tech. And anyone could order their very own copy of the Tech Timeline as a physical poster from the hub site.
Traffic was driven to The Next Evolution site via a blended multi-channel approach comprising email, organic social (from Spot, NetApp, and team members) and paid social.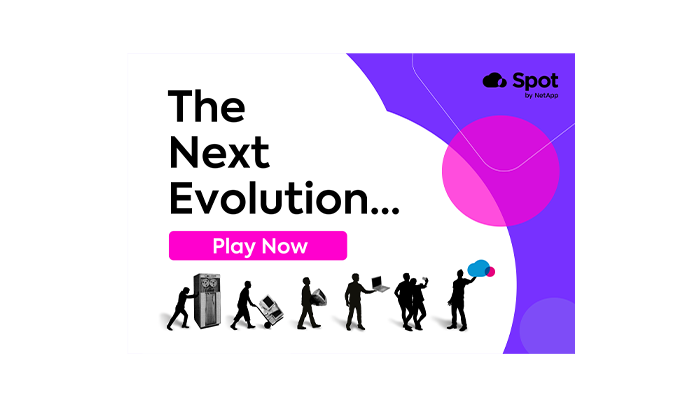 The Results
For a limited-budget campaign, The Next Evolution really punched above its weight in terms of effectiveness and hitting its objectives:
Creative Positioning
Delivered an eye catching and highly engaging campaign that position Spot exactly where they wanted to be; at the forefront of technological evolution
Brand Awareness
Teaser phase drove 15,000+ impressions at a CTR of 0.58%

Drive & Live phase drove 65,000+ impressions at a CTR of 0.44%

4,500+ influenced contacts across the life of the campaign
Lead Generation
4.9% conversion rate on site (typically 1-2%)

54% audience engagement rate (typically 25-30%)

20 MQLs generated all bang on target audience

Nominal pipeline value of £1,000,000 which represents an ROI of 1:84