Highlights
The "Halloween Horror Classics" campaign won Gold for best demand/lead gen campaign & Silver for best limited budget campaign at the B2B Marketing Awards. Winner winner.
65
Opportunities generated
x2 Awards
Won at the B2B Marketing Awards
The Challenge
Being truly creative is about finding those ideas that undeniably connect with (and then get lodged in the brains of) people.
And when true creative thought is given to an audience and how to grab their attention in different, inventive, memorable ways you get our "Halloween Horror Classics" Campaign for Proact and NetApp.
In the highly congested IT solutions space, staying front on mind and properly engaging your target audience is key. The "same old, same old" approach of whitepapers and webinars has its place but isn't going to truly grab attention.
With Halloween 2021 approaching, Proact and NetApp were looking for a more creative way to capture the imagination of the notoriously hard-to-reach IT decision maker audience and in turn generate leads and deliver pipeline.
But rather than rely on standard campaigns and cheesy Halloween puns (we see you "spook-tacular") Proact and NetApp wanted to take a truly creative approach. One that would capture the imagination and make the right people take notice.
Enter Sharper.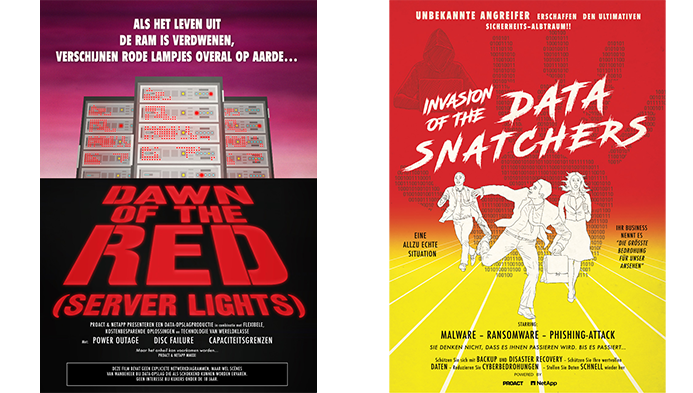 The Solution
The core objective of the campaign was to creatively demonstrate that Proact/NetApp "get" their IT decision maker audience. Especially the key challenges and potential nightmares they face.
And in turn use this insight and a creative approach to drive awareness of the Proact/NetApp brands, generate MQLs, and deliver pipeline.
Through detailed audience research and profiling, 4 key challenges for IT decision makers were identified:
Hardware failure and management

Data security and ransomware

24/7 operations and resiliency

Data migrations
Which were then strategically matched to 4 of Proact/NetApp's service offerings: Multi-cloud, Security, Hybrid Cloud, and Service Management.
The IT decision maker audience is - in generality – nerdy, made up of predominantly men with a deep passion for technology. But alongside this passion for tech is often found a love of film, particularly science fiction and horror.
We matched the identified challenges/solutions with 4 classic horror films – with instantly recognisable posters – that gave us room to then play with messages and lovingly recreate the posters tapping into those key challenges.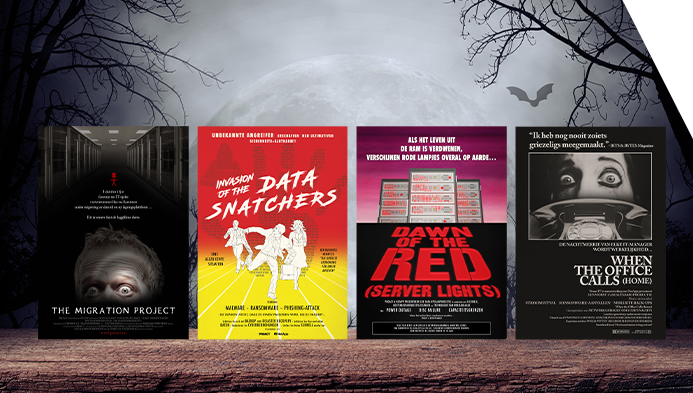 The Results
The creative approach taken to the campaign and the results delivered were unlike anything Proact or NetApp had seen before.
The aims of the campaign were to creatively increase Proact/NetApp brand awareness, generate MQLs, and drive the pipeline.
This campaign did all 3. And then some…
Increase Brand Awareness
30,000+ unique visitors driven to landing pages across 3-week "live" period.

Average dwell time across landing pages more than 2.5 minutes.

Paid Social ads on LinkedIn delivered more than 500,000 impressions at average CTR of 0.43% (target 0.22%)
MQL generation
On launch day alone Proact secured 20 meetings with contacts at both target and net new accounts.

During the short campaign lifecycle, 45 further opportunities (not just MQLs, actual opportunities) were generated, all with "on target" individuals.
Pipeline and ROI
The 65 opportunities generated by the campaign equated to an initial pipeline value of more than £3,250,000 and an ROI of 1:267.
The campaign was also awarded Gold for best demand/lead gen campaign and Silver for best limited budget campaign at the 2022 B2B Marketing Awards.